Color Contrast Doppler Ultrasound Diagnostic System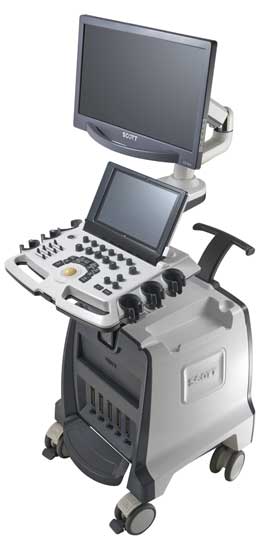 Ramzed's latest high-end device will bring you a brand new clinical experience with excellent ergonomics design, 21- inch professional medical LCD display, three joint free-hand transducer, 10-inch capacitive touch panel and 5 probe interface. Multiple wave velocity ultrasonic channel is available. With professional ultrasonic contrast color Dopplor, locating can be more accurate.
Broadband Variable-frequency Probe Technology

Convex array probe, linear array probe, intraluminal probe and small convex array probe, abdominal 4D probe as well as intraluminal 4D probe can meet any require for regular and special examination. In addition to that, multiple probes with frequency from 2-15MHZ are optional.

Powerful Network Transmission Function

It is operated in PC platform with DICOM function. Built-in workstation and DICOM function can achieve rapid network transmission. Video interface can connect to external workstation. Double USB interfaces is provided.
Intraluminal 4D Contrast Imaging

Image the uterus and ovarian ducts with wide angle by intraluminal harmonic contrast.

Real-time 4D Imaging

Excellent imaging speed helps doctors observe the face and limbs of the fetus in a real-time manner.

Harmonic Imaging

Tissue harmonic imaging makes the image much smoother, softer and clearer. 17 or 19-inch display is at your choice.
Thyroid Gland

Carotid artery

Liver

Brain