Intelligent health integrated machine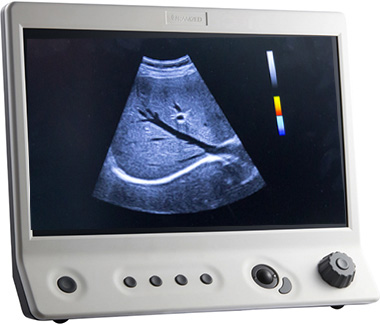 Ramzed 's intelligent health integrated machine is designed for healthcare purpose. It is comprised of general practitioner workstation, multiple vital signs detector and corresponding accessories. Devices for blood lipid test, glycosylated hemoglobin test, portable blood biochemical test or portable ultrasonic imaging are also optional. It is a powerful integrated equipment for health management, which can provide convenience and efficiency for medical personnel.
Portable Design

It is more suitable for baseroot physicians to follow up patients at home. The host weighs only 1.6kg, and total weight (plus accessories) is only 3.6kg. Both host and accessories can be packed into a medical satchel.

Built-in Lithium Battery

Superlong endurance time; it can continuously work for 4 hours without charging.

Powerful Local Storage Function

The intelligent health integrated machine can save the off-line data of 4,000 patients.
Total Solution for the Internet of things and Primary cCare
Real-time control of data collection; general practitioner workstation, with data interconnection; secure storage and authorization management provide assurance for medical big data.

Public Health Inspection; Health Records Inquiry and Management; Remote Medical Treatment
Health Data Trends Analysis; Regional Disease Surveillance and Analysis; Fectious Diseases Control and Surveillance
Up-to-date Function Design
The device can identify both second-generation ID cards and medicare cards, which facilitates family doctors and clinic doctors to establish electronic health care records for the residents easily and promptly.

It can assist the management of patients with high blood pressure, diabetes, cardiovascular and cerebrovascular disease. Linking up to the healthcare data platform, it facilitates the general practitioners to access electronic health records and test reports of their patients, which make it possible to evaluate disease changes and achieve precise diagnosis and treatment of chronic disease.

The machine can help to improve the experience of general practitioners since it can perform seven tests by itself, including 12 lead ECG, Arterial Blood Oxygen Saturation, blood pressure, temperature, blood sugar, heart rate and urine test.

It can provide powerful data interconnecting and full test reports, which help to discover diabetes, cardiovascular and cerebrovascular disease at an early stage.

Integrated machine and portable backpacks make it easy to store or carry the device, which is practical and convenient when doing a medical patrol. Superlong standby time makes it possible to examine thousands of patients in succession and expand test items. What's more, it can continuously work under no network environment.

The interconnection manner of Internet of things and system platform support the use of telemedicine and medical big data. It supports the data transmission and connection to external devices by multiple ways, including WIFI and wired&wireless network, Bluetooth 4.0, USB and SD card and so on, which enhance the terminal management of the intelligent integrated machine.